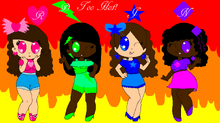 About Rosanny Rodriguez
Rosanny is the lead singer at !RDJN! She is of a Dominican descent. While in the eighth grade Rosanny along with Titilola Shogbonyo, Janiah Ortiz, and Nicole Johnson they made a first song while in spanish class titled "Janeiii" after that song and artwork was made for their new group RDJN. Until, the girls reunite with their new friend Titilola Shogbonyo. It is uknown if the group will become RTDJN or have a different band name.
Rosanny's Backstory
Rosanny was born in Santiago in Dominican Republic. Rosanny lived with her mother Ana "Anny" Gutierez and her father Ramone Rodriguez. Ramone then moved to Brooklyn in New York due to his job. Ana disliked Ramon being far away. Ana made a little trip to go to Brooklyn for the Christmas holiday. Rosanny was only 5 years old when she first went to go to Brooklyn. A couple of years later she then moved to Brooklyn to be with her father more. Ana then had another daughter Adriany Rodriguez.
Meeting Deasia & Nicole
When Rosanny enrolled to the same school as Deasia and Nicole. Deasia and Rosanny were closer than Rosanny and Nicole. Due to Rosanny not pronouncing english really well she use to call Deasia "Decia"
Ad blocker interference detected!
Wikia is a free-to-use site that makes money from advertising. We have a modified experience for viewers using ad blockers

Wikia is not accessible if you've made further modifications. Remove the custom ad blocker rule(s) and the page will load as expected.